Burglars can be very sneaky, but there are some steps that you can take to make it more difficult for them to break into your home. Follow these tips and you'll be less likely to become a victim of a burglary.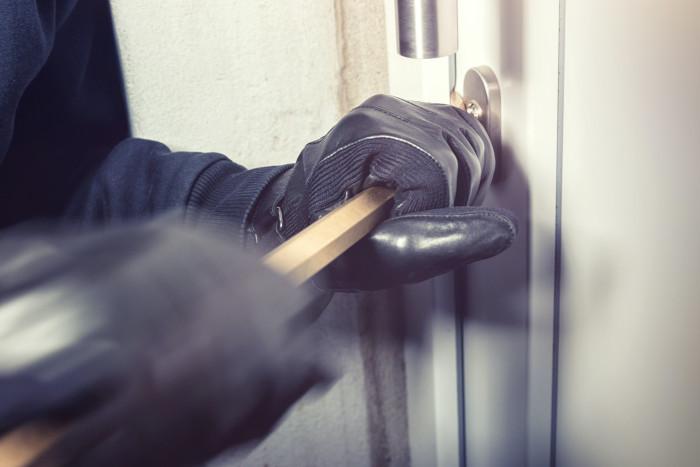 Rekey your locks
When you think of all the former tenants and handymen who might still have a key to your apartment, you might start to worry that any random person could walk right into your apartment. Ask your landlord to put a new deadbolt lock on your front door as well as a chain lock, if your front door doesn't already have one. And storing your valuable items in a safe won't help you if a burglar can simply carry it away, so ask your landlord if you can bolt a safe to the floor in a closet.
Source: MentalFloss
Use a safe
Most of us don't need a big, heavy, expensive safe to secure our valuables. For $100, you can get a safe that will protect against thieves. Safes go up in price for options such as fire protection and digital or biometric (fingerprint-reading) opening systems. Install the wall safe or cylinder floor safe by bolting it to the floor (most safes have holes inside for just that purpose). Hide it in the corner of a closet or other inconspicuous area, or mount the wall safe inside a wall and cover it with a picture.
Source: FamilyHandyman
Buy a home security system
Installing a home security system is one of the most effective ways to prevent intruders from entering and to alert you if there's been a break-in. Data shows that a home without a security system is roughly three times more likely to be broken into. If an intruder spots a security camera or a sign indicating you have a security system, they'll likely keep moving.
Home security cameras are a great option to add another layer of home protection. Security cameras can alert you if there's movement in your yard or on your front porch, and door and window sensors will let you know if someone has entered or is attempting to enter your home. Depending on your security company, they may also alert law enforcement on your behalf.
Security systems also don't have to break the bank. There are plenty of affordable security cameras and great DIY security systems, in addition to stand-alone devices, out there that you can install yourself on a budget.
Source: CNET
If you're looking for more ways to keep your home safe, give us a call. We can provide you with additional tips and advice on how to best protect your property.