Smart locks have become increasingly popular in recent years, thanks to their many benefits. But before you make the switch, it's important to understand the pros and cons of smart door locks. So read on to learn more about these innovative devices and decide if they're right for your home.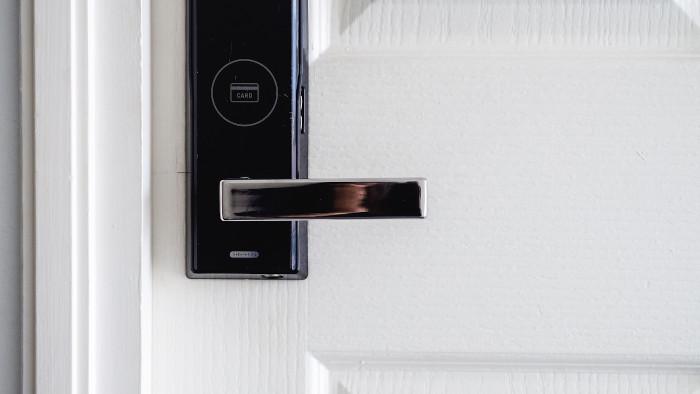 Pros
You can easily allow multiple access
If you're a vacation rental owner, a customer of cleaning or dog-walking services, or someone who has friends and family popping in often, a smart lock can make life easier for everyone.
No more making key copies or hiding a spare set. Instead, you can give out digital keys using the lock's accompanying app and even restrict what times someone is allowed to enter your home. For instance, you can allow specific users to enter only on Monday through Friday between 2 p.m. and 4 p.m.
There's also the option to allow roommates and family members unlimited access, so the system works for the entire household. Source: CNET
No need to go back to lock your door
There's nothing worse than getting on the road and not remembering if you've locked your door. Opting for a premium smart lock negates this problem entirely, as many models let you enable an auto-lock function that'll deadbolt your door after a few minutes of inactivity. Source: DigitalTrends
Cons
You'll need to change batteries
Regular door locks don't require software updates or battery replacement. Many smart locks do. And though a particular style of door lock and handle might eventually look dated, it doesn't face technological obsolescence.
For those who have adopted the digital pass to access most of the doors to their lives, they are at the mercy of their device. So if the phone battery dies, as they are far too well known to do, you get locked out, perhaps from everything – the door, the car, their wallet, oh and the actual phone to call for help. Source: USAToday
You might lock yourself out
If you can barely remember your spouse's birthday, a lock with a code might not be a good idea— especially since you should change your keyless lock's code often to prevent the number keys from wearing out and making your code obvious to intruders. Source: Angi
Need help figuring out which smart lock is best for your budget and needs? Give us a call!
Contact:
(778) 868-4628