Are you considering installing a doorbell camera? With so many different brands, models, and features on the market today, it can be difficult to decide which one is right for you. But before you make that important decision — whether it's upgrading an existing system or starting from scratch — there are several factors to consider. Here are some of them: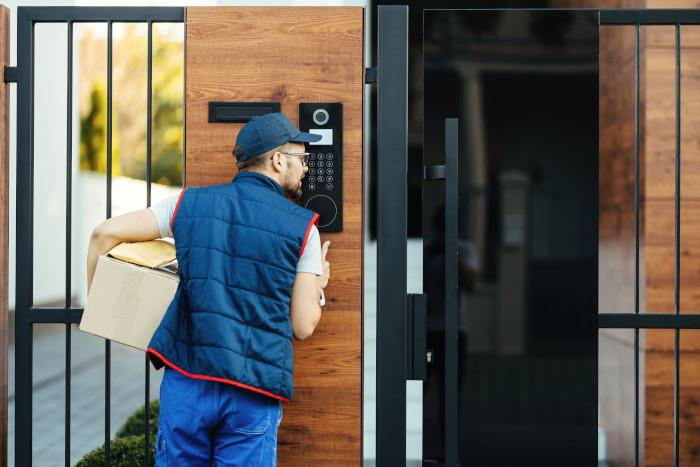 Resolution 
The higher the resolution, the clearer the picture you get, but consider that higher resolution video also requires more bandwidth to stream and takes up more storage space. If your front porch is in direct sunlight or strong shade, we strongly recommend opting for a video doorbell with HDR support as it helps to prevent bright areas from appearing blown out or shadowy areas from being too dark to see.
Field of view and aspect ratio
If you want a head-to-toe view of the person at your front door, then think about the field of view and aspect ratio offered by your prospective pick. A wider field of view will take more in but can cause a fish eye effect. Rather than a traditional landscape aspect ratio, you may prefer a square or portrait view to ensure you can see a visitor's face and any packages that might be on your porch. 
Source: Wired
Audio 
One of the biggest benefits of doorbell cameras is being able to communicate through it. Two way audio allows you to speak with whoever is at the door, such as telling delivery men to leave a package somewhere specific.
Source: SafeHome
Latency 
If your smart doorbell camera takes a long time to send a push notification after someone rings your doorbell, then you risk missing your visitor completely. You also need to be sure you're getting notifications when something sets off the motion detector, as you can set the motion sensor of most video doorbells to notify you of activity happening near your door, even if no one rings the buzzer. If you have latency problems, start with your Wi-Fi connection. If it isn't strong where the doorbell is installed, you might consider moving it (or, more easily, getting a Wi-Fi range extender). But it could also be the way the software works.
Source: CNET
With all these factors to consider, we understand how challenging it can be to determine which doorbell camera is the right fit for your lifestyle and needs. Aside from considering the range of features it provides, you also have to check its compatibility with your existing security system. So if you're still unsure which one to choose, call us! We'll be more than happy to help you.
Contact:
(778) 868-4628